South Florida's Best and Brightest
Originally published: Wednesday, June 1, 2011 (12:00:51 a.m. ET)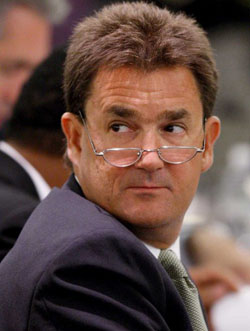 Criminal defense attorney Yale Galanter. (Photo courtesy of the The Law Offices of Yale L. Galanter, P.A.).
Yale Galanter
Being juxtaposed in a courtroom with the likes ex-Buffalo Bills running back O.J. Simpson as well as the former wife of troubled television and film actor Charlie Sheen, Brooke Mueller, will certainly raise the prominence of any attorney. For veteran criminal defense lawyer Yale Galanter, those were just two of the high-profile clients he's represented throughout an illustrious three-decades-long career. Galanter, who graduated from the Shepard Broad Law Center at Nova Southeastern University, has provided counsel to Simpson on numerous occasions, the last of which was his Las Vegas arrest on charges that included conspiracy, robbery, and kidnapping. Galanter also was by Mueller's side throughout the legal ordeal that ensued after she told local police in an otherwise quiet Colorado resort town that Sheen had assaulted her on Christmas Day, 2009. Upon graduation, Galanter began working in the Miami-Dade Office of the State Attorney, which was in the charge at the time of Janet Reno.
Q: What advice would you give youngsters who want to embark on a career in your industry?
A:
I speak a lot at law schools and high schools and group gatherings, and people ask me frequently about my career. I enjoy it very much and I tell them that if you have a burning passion to defend people's rights, protect people, and defend the Constitution of the United States, it's a wonderful, wonderful profession.
Q: Of what professional accomplishment are you most proud?
A:
My best accomplishment is the fact that I have had a law firm for more than 30 years. And that we've been able to grow it into a national firm. We have an office in Miami, another in Broward County, and one in Aventura. We also have satellite offices in Las Vegas and Los Angeles. Our very first office was downtown at 28th Avenue and Biscayne Boulevard.
Q: What's the most challenging part about your work?
A:
The most challenging part is that I represent people who have been accused of crimes, so the natural inference is for people to believe that they did it, even though there is a presumption of innocence in our country. Most lay people believe that if you're charged with something, then something must have occurred, or "where there's smoke, there's fire." We are a media-driven society, and most cases that I defend today start before anyone ever walks into a courtroom. You have to win in the media, or in the world of public opinion, as they say, before you walk into court to even have a fighting chance. In our society, the idea of a free and open court system is so ingrained. Here, everything is done in public and everything is open to the public. There are very, very few circumstances in which the public is not involved.
Q: What did you envision doing for a living when you were growing up?
A:
I didn't envision being a criminal defense lawyer. When I was growing up, I was primed to become a professional golfer. I grew up in a small town in New Jersey called Cherry Hill and I'd played golf my whole life. That's why I ended up going to the University of Miami, so I could continue my golf career. At some point when I was very young, I realized I was never going to be able make money to support a family and that I had to choose another profession. When I was 18 or 19, I was about a scratch golfer.
Q: In ten years' time, I will be _________________.
A:
Completely retired and skiing in Aspen, Colorado.
Q: Who are/were your professional role models and why?
A:
My role model was always my father. He was an optometrist. I tell people all the time that my mother made sure I was educated and my father taught me how to use it. My father passed away at 92, about two years ago, and he was and continues to be my role model. He taught me everything.
Q: If you could do anything else in the world for a living, what would it be?
A:
I'd be a professional golfer. That was my first passion. Law was my second passion. Today, now that I'm approaching 55, I have some new interests, skiing being one of them. But if I had to make a living, being a professional golfer would be it. When I moved here, I fell in love with the climate, the environment, everything about [South Florida]. I knew that I wanted to stay longer, to be in school longer. I knew I didn't want to be a physician, that really wasn't what I wanted to do. So the only alternative was law school. When I first entered law school, I had no idea it was going to end up the way it did.
Q: What's the best part about your job?
A:
I get to ensure that people have lives after they make mistakes.
Q: What's the worst part about your job?
A:
The worst part is that when I am not successful, and somebody loses their liberty, it's the worst feeling in the entire world. I get very close with my clients, and I could really list for you every one of my losses. But I hardly remember the wins. The losses stick with you for a long, long time.
Q: What's the one most important thing that experience has taught you?
A:
Patience. Practicing law is not a sprint. It's a marathon. Young lawyers are always in a rush to do things, and today, when I'm lecturing young lawyers, I always say, 'Listen, take a deep breath, analyze the problem, and take a step back before you take two steps forward.' Time is a good thing. Very few things in the law are done on an emergency basis. Even when you have an emergency, it normally takes you a day or two to get into court. So think about what you want to say, respect your adversaries and your opponents, always take the high road, and remember that the world is getting smaller, not bigger.
Q: What's the best career advice anyone has imparted on you?
A:
Don't think about the financial gains, or the financial rewards. Just think about doing the best job you can possibly do for your client. And by doing that, you will be successful.
Q: What one thing would you do different/better if you could start it all over again?
A:
I probably would have been more interested in my education at the time I was going through it than I was. Because now, at 54, my thirst and quest for knowledge is insatiable. I like to read things and learn things. And when I come across topics of which I'm not aware, I like to become aware of them. When you're younger, you're more concerned with going out and riding your bike or your motorcycle or whatever you're doing, and you don't want to spend the time that it takes to learn something and learn it well. So if I had it to do over again, I'd probably be a much more attentive student.
Q: What's your favorite South Florida charity?
A:
It's not specific to South Florida, but my favorite charity is Susan G. Komen for the Cure. My mother survived breast cancer, so it's something that's been in our family and we like to be active with.