South Florida's Best and Brightest
Originally published: Tuesday, February 1, 2011 (12:01:00 a.m. ET)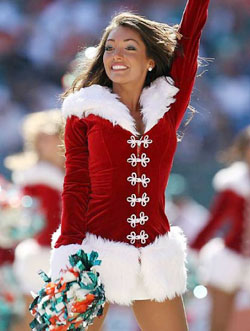 Miami Dolphins cheerleader and fashion designer Tiffany Pearl. (Photo courtesy of The Miami Dolphins).
Tiffany Pearl
A four-year veteran and team captain, Aventura native Tiffany Pearl was selected to represent the Miami Dolphins cheerleaders at the 2010 Pro Bowl at Sun Life Stadium (the first time in three decades the game was held on the U.S. mainland). That season was her final one entertaining audiences on NFL sidelines, as she is now fully immersed in designing her own line of ladies' sports apparel, called Miss Fanatic. It was a natural move for the 26-year-old Michael M. Krop High School and Miami International University of Art and Design graduate. After all, she served as a designer during the Dolphins cheerleaders annual swimsuit calendar runway shows, her last one coming at the posh LIV nightclub on Miami Beach a summer ago. (For her first show, she made the bikinis with actual pigskin from game balls as well as material from player jerseys). Pearl, who is professionally trained in ballet, jazz, modern dance, and hip-hop, among other styles, also has appeared on the German-television version of "Next Top Model."
Q: What advice would you give youngsters who want to embark on a career in your industry?
A:
I would definitely urge them to take as many internships during their years in school as possible. Also, make sure those internships pertain to your career goals. Internships help you gain a wealth of knowledge and experience and also really help you decide if it is the right field for you. In my industry, you have to be willing to work long hours, and live and breathe fashion. The styles and trends are constantly changing and you must keep up.
Q: Of what professional accomplishment are you most proud?
A:
I'm very proud of graduating with honors with a bachelor's degree in Fashion Merchandising, as well as being named the 2010 Pro Bowl selection for the Miami Dolphins Cheerleaders. But most of all I'm proud of myself for having the courage and commitment to begin my own company. Being your own boss may seem easy, but you can only depend on yourself and push yourself to do the things necessary to become successful. If you have the drive and commitment, there is nothing better than to be your own boss.
Q: What's the most challenging part about your work?
A:
The most challenging part of my day would be handling the stress of working with different manufacturers and hoping they will be able to understand my vision and complete the work I give them. When you are at the mercy of other people it can be very stressful. When you're designing and creating apparel, you want to be able to put the best product out in the market. There are always delays in production and manufacturing issues that can be very stressful.
Q: What did you envision doing for a living when you were growing up?
A:
My original vision as a kid was to be a buyer for a large store like Bloomingdale's or run my own PR firm. Since I love networking and planning events, I never had planned to be doing what I am right now. While cheering for the Miami Dolphins, I came up with the sports apparel concept and after I researched the market and saw there was a major void for what women really wanted to wear to support their favorite teams. At that point I began the creation of the Miss Fanatic brand which has taken me into a completely different direction. But I'm very excited to see where it will take me. Regardless, I did always know that I wanted to be involved in fashion, which I am.
Q: In ten years' time, I will be _________________.
A:
My goal is to have launched Miss Fanatic into the NFL, NBA, and MLB markets, making it a multimillion-dollar company. I also see myself owning at least two other companies by then as a very successful entrepreneur.
Q: Who are/were your professional role models and why?
A:
I've never had one.
Q: If you could do anything else in the world for a living, what would it be?
A:
If I could do anything else it would definitely be hosting "E! News" or a travel show. I love the entertainment industry and with my background in modeling, dance, and acting, I think that would be the perfect profession for me.
Q: What's the best part about your job?
A:
The best part is being able to be creative and design fun clothing for people to wear. It's such an exciting feeling when you actually spot someone wearing something from your line. I love sports and I also love fashion, so to be able to combine the two is really an awesome way to spend my day.
Q: What's the worst part about your job?
A:
If I had to choose the most difficult part of my job, it would definitely be the pressure that being a business-owner can have. At the end of the day, the success of the business is all up to you and what you are willing to put into it. It can be very stressful to invest in your ideas, but if you want to be an entrepreneur you have to take risks to have success.
Q: What is your biggest professional regret?
A:
I can't say that I regret anything at this stage in my career. I'm still young enough to learn from any mistakes I may make and be able to make better decisions in the future if need be. You are constantly learning throughout your life so you shouldn't look at things as regrets. Instead you should see them as learning experiences.
Q: What's your favorite South Florida charity?
A:
I'm a huge animal advocate and I support so many different animal charities such as Best Buddies, Build on Hope, and E.A.R.S.