South Florida's Best and Brightest
Originally published: Wednesday, June 1, 2011 (12:02:17 a.m. ET)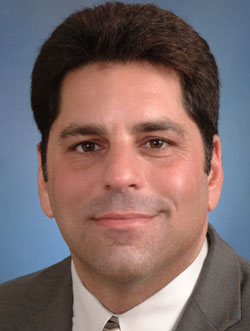 Impact Players Founder and President Stu Opperman. (Photo courtesy of Impact Players).
Stu Opperman
His achievements span more than two-and-a-half decades, and during that time, the list of clients he's represented has been as impressive as it has been wide-ranging. He has created and implemented both public relations and strategic communications campaigns for, among others, the Make-A-Wish Foundation of Southern Florida, the hugely popular "Paul & Young Ron Show," The Andy Roddick Foundation, Pine Crest School, III Forks restaurant, Castronovo Vineyards, The Broward Alliance, and Joe DiMaggio Children's Hospital Foundation. Throughout his career, Stu Opperman has played a vital role in every conceivable aspect of PR, including: crisis management, relationship creation and enhancement, and audience and content generation. He also serves on the board of directors for the Public Relations Society of America's (PRSA) Gulfstream Chapter. Opperman, a University of Florida graduate, founded Hollywood, Fla.-based Impact Players in 2009.
Q: What advice would you give youngsters who want to embark on a career in your industry?
A:
Don't put restrictions on your career path by limiting what you are willing to do. "I only want to work at a large agency" or "I'm only interested in travel industry PR" unnecessarily close the door on opportunities that might be enjoyable and lucrative. Being a generalist (I joke that my niche is not having a niche), and working within a wide variety of industries keeps every day fresh and makes me a valuable resource to many different clients.
Q: Of what professional accomplishment are you most proud?
A:
Having the courage to leave a stable, well-paying, senior position at an agency during a recession to devote myself to Impact Players (www.impactplayers.com). I didn't have a year's salary in the bank or a formal business plan like the experts recommend, but I did have a belief in myself and a strong sense that I was capable of creating something personally and professionally special. I also didn't want to be the guy who told his daughters to follow their dreams when I wasn't willing to follow mine.
Q: What's the most challenging part about your work?
A:
I demand excellence from myself and it's tough to find the time to be great at everything when you are a one-man band. I'm in charge of strategy, implementation, client relations, business development, accounting, IT [information technology], brand enhancement, and everything else that goes into running a small business.
Q: What did you envision doing for a living when you were growing up?
A:
After it became clear that playing for the New York Yankees probably wasn't going to happen, I assumed I'd be a sportswriter for a newspaper. At the University of Florida, I discovered that working in radio and television was much cooler than the newspaper job I envisioned, so I did that for a number of years, including a stint as the program director at SportsRadio 560 WQAM, before making the switch to public relations.
Q: In ten years' time, I will be _________________.
A:
Successful enough to be living whatever life is best for my family. More selfishly, I'll also be attending the Florida/Georgia football game, "The World's Largest Outdoor Cocktail Party," the last Saturday in October, something I've already done more than 25 times. What that says about me, good or bad, I don't know, but that weekend in Jacksonville is one of my happy places.
Q: Who are/were your professional role models and why?
A:
Bob Woolf was one of the first sports agents and at the top of the game when I knew him as a young professional. Despite all the success, he never big-timed anyone, and he treated everyone, from the commissioner of the NFL to the guy who cleaned the locker rooms, with respect. He also taught me to return every phone call, because you never knew where the next opportunity might come from. Also, my dad, who worked hard every day and sacrificed for his family. He wouldn't spend a penny on himself, but the rest of us always had everything we needed.
Q: If you could do anything else in the world for a living, what would it be?
A:
One of the great things about public relations is that it enables you to work in many business environments, because accounts are very often in different industries. It is a requirement to become somewhat of an expert in many fields, to stay informed, and to constantly navigate a shifting landscape. Those skills, and the ability to communicate effectively, would serve me well in other careers, but because there isn't an obvious one I'd switch to, I know I've found the professional niche for me. I love that I already get to live in other worlds, everything from nonprofits to mixed martial arts (MMA), without ever having to leave the job I already have.
Q: What's the best part about your job?
A:
Freedom to do things how and when I please. If I'm willing to work at midnight, which I am, then I can also take a bike ride at the beach at two in the afternoon. I make decisions about who I want to work with, the type of work I want to do, and, ultimately, how much money I make. The "obligations" you have working for someone else become "opportunities" when it is for yourself.
Q: What's the worst part about your job?
A:
The worst part, whatever it may be, is better than a lot of people's best part, so I've got nothing to complain about. That being said, it's probably the desire to always do more for your client's business or for my own business, knowing there are only so many hours in the day. That's especially difficult for me because I'm also focused on sharing time with family and friends.
Q: What's the one most important thing that experience has taught you?
A:
How you look at situations determines your level of happiness. It's true that "things turn out best for those who make the best of the way things turn out." Your attitude is the key, and thankfully, that is something over which each of us has control.
Q: What's the best career advice anyone has imparted on you?
A:
Never lose sight of the big picture.
Q: What one thing would you do different/better if you could start it all over again?
A:
I'd learn to speak Spanish. In South Florida, especially, being bilingual is a huge advantage.
Q: What's your favorite South Florida charity?
A:
The Make-A-Wish Foundation of Southern Florida. I've seen firsthand "the power of a wish" and the life-changing impact it has for children who have life-threatening medical conditions. One little girl told her mother on the day her wish was granted, 'For the first time I feel like a real kid, not a kid who has cancer.' The Foundation delivers that type of magic every day.