South Florida's Best and Brightest
Originally published: Tuesday, February 1, 2011 (12:01 a.m. ET)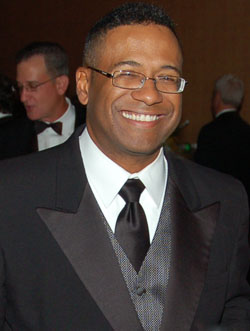 Make-A-Wish Foundation of Southern Florida CEO Norm Wedderburn. (Photo courtesy of Katie Winter/ABM).
Norm Wedderburn
While each of the selections in our inaugural "South Florida's Best and Brightest" edition devotes a significant portion of their energy and financial resources to charity, Norm Wedderburn is the only one who has chosen to make it the singular focus of his professional life. As CEO of the Make-A-Wish Foundation of Southern Florida, Wedderburn, a University of Florida School of Law graduate, oversees a staff of more than two dozen, as well as an annual operating budget upwards of $6 million. The organization's signature event, the Intercontinental Ball, is held every November, and in recent years it has attracted the likes of Sharon Stone, Kim Kardashian, Charlie Crist, Adrian Grenier, and Pamela Anderson. Incidentally, it generated more than $1 million in 2010. The end result: more than 500 wishes were granted last year alone to children facing life-threatening medical conditions. The Southern Florida chapter encompasses 13 counties, as well as the U.S. Virgin Islands.
Q: What advice would you give youngsters who want to embark on a career in your industry?
A:
I would suggest that they intern at more than one not-for-profit. I read recently that the not-for-profit industry is the fourth-largest in the State of Florida. Accordingly, interning for more than one not-for-profit would provide a young person a better perspective on whether this is really an industry that they wanted to enter.
Q: Of what professional accomplishment are you most proud?
A:
I am very proud that I was able to successfully transition from practicing law to running the Make-A-Wish Foundation of Southern Florida. Transitioning from one career to another can be very difficult, yet I feel like I did it with relative ease.
Q: What's the most challenging part about your work?
A:
The most challenging part of my job is raising the funds necessary to grant
every
wish. That's my/our goal -- to grant the wish of every eligible child. You need the dollars necessary to do it. So when we come up short financially, it means that some child may not get his/her wish and that's just not right.
Q: What did you envision doing for a living when you were growing up?
A:
When I was young child, I wanted to be a doctor because I loved the show
Marcus Welby, M.D.
In my adolescent years, I decided I wanted to be a lawyer because when one looks back at our Country's history, lawyers played such key roles. I wanted to play a key role in making my country better and I thought the best way to accomplish that was with a law degree.
Q: In ten years' time, I will be _________________.
A:
Hopefully still as happy as I am today.
Q: Who are/were your professional role models and why?
A:
I'm not sure I would characterize them as "professional" role models, but my two older sisters where certainly significant role models. They were the first of my generation in our family to go to college and that significantly influenced me.
Q: If you could do anything else in the world for a living, what would it be?
A:
I'd be a college professor. I love teaching and I love the energy on a college campus.
Q: What's the best part about your job?
A:
The people. I get to see the best in people on a daily basis. I work alongside a committed staff who could make more money elsewhere, yet have chosen to take less to be here; I see volunteers daily who give of their time; I interact with donors who have worked hard for their money and yet elect to give some of it away to improve the lives of others; and most of all, I get to meet families whose lives have been forever changed because of what we do. How many people can say that about their job?
Q: What's the worst part about your job?
A:
Knowing that there exists a need for what I do. The only reason I have a job is because there are very sick children in my community. I wish there was no need for what I do.
Q: What is your biggest professional regret?
A:
I really do not have professional regrets. When I came out of law school, I was fortunate enough to work at a great firm where I actually met the person who later introduced me to Make-A-Wish; following that, I had a successful law practice for 12 years with one of my closest friends. And today I get to run what I consider to be one of the most outstanding organizations in this community. It's pretty hard to find regret with that track record.
Q: What's your favorite South Florida charity?
A:
Obviously, the Make-A-Wish Foundation -- we change lives.