South Florida's Best and Brightest
Originally published: Tuesday, February 1, 2011 (12:01:00 a.m. ET)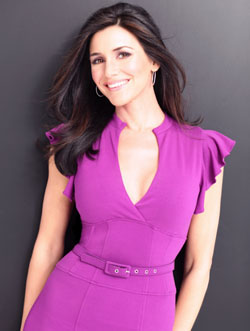 CBS4 Meteorologist Lissette Gonzalez. (Photo courtesy of Gio Alma).
Lissette Gonzalez
Hard to imagine there's much left for multi-talented Lissette Gonzalez to accomplish. Her broadcasting debut came at UMTV, the University of Miami's student-run cable network, and by 2007, she was on-air at CBS4, talking weather in a top-20 media market. Incidentally, she completed her studies with a double-major in broadcast journalism and music-vocal performance. Gonzalez, a former Miss Florida (1998) and Miss America second runner-up (1999), also signed a record deal with RCA in 2001, and has headlined an Off-Broadway show ("4 Guys Named José ... And Una Mujer Named Maria"). She's been recognized by the Society of Professional Journalists with a Florida Award of Excellence; and while working as an evening weather anchor at KTLA in Los Angeles she was honored with a Mark Twain AP Award for Best Weather Segment. Despite it all, she's found time to sing at Heat, Marlins, and Dolphins games, as well as at the Sony Ericsson on Key Biscayne.
Q: What advice would you give youngsters who want to embark on a career in your industry?
A:
While I was studying at the University of Miami, one of my professors shared this quote (from Seneca) with me: "Luck is what happens when preparation meets opportunity." I like to pass it along when asked for advice. There will be many opportunities, but being at the right place, at the right time is not enough. You need to be prepared and educated, but you must also be passionate and love what you do, willing to work hard, and make sacrifices in order to achieve success in the television industry. Or any industry for that matter.
Q: Of what professional accomplishment are you most proud?
A:
I was so proud and so excited to complete my Meteorology degree last year through the Mississippi State University Broadcast Meteorology program. The past three years I had been juggling my crazy full-time schedule at CBS4 while studying Meteorology full-time and it wasn't easy. I hadn't been in "school" since I graduated from UM back in 2001 with a double major in Broadcast Journalism and Music-Vocal performance. The Meteorology program was quite challenging and I took on courses ranging from Thermodynamics to Synoptic Meteorology, which required lectures, homework, labs, quizzes, tests, and exams. There were a few moments when I thought, 'What did I get myself into?' and in the end, I managed to earn straight As in all my classes and passed the final comprehensive certification exam with flying colors. It was an amazing experience and it's still pretty surreal and very cool when the anchors refer to me as "CBS4 Meteorologist."
Q: What's the most challenging part about your work?
A:
I am live on CBS4 from Monday through Friday from 5am-9am and again at noon, and when you combine all the weathercasts, teases, webcasts, and radio hits, I have to talk about the weather about 25 times a day. It can be challenging to find different ways of telling my weather story that many times for all the viewers tuning in or logging onto to our website, but that is also what I love about my job. There really is an art to forecasting. Of course, all the analysis and preparation leading up to the forecast can be very scientific and mathematical, but there is an art in interpreting all the elements and then communicating the weather forecast in a way that's informative, yet easy to understand. I don't have a weather producer, so it's my responsibility to do the research and analyze all the weather data in order to compile my forecast. I really have to be connected with what's going on, weather-wise, all the time and know what I'm talking about because I don't have a script. I am not able to read a TelePrompTer like the anchors do since I am in front of the "Green Screen" and when I look at the camera in front of me, instead of the Prompter, I see myself and my weather graphics.
Q: What did you envision doing for a living when you were growing up?
A:
I envisioned myself either working in television or performing on stage because I have always been so passionate about communicating and the arts. Some of my goals included becoming: a television anchor, a singer, an actress on Broadway. Both of my parents are Cuban and they have always made us aware of how fortunate we are to live in a country with so many opportunities. They always encouraged us to pursue our dreams, no matter how impossible they seemed. I feel very blessed that I have been able to make most of my childhood dreams a reality. I wasn't "on" Broadway, but I came pretty close when I starred as Maria in the Off-Broadway musical
4 Guys named Jose and una mujer named Maria
in New York and in Miami. I signed a record deal with RCA records. And I have been working in television on the local and national level for more than 10 years now as a reporter, television host, weather anchor, and now as a Meteorologist.
Q: In ten years' time, I will be _________________.
A:
Still working in television. I am open to whatever God has planned for me. The journey so far has been amazing.
Q: Who are/were your professional role models and why?
A:
Growing up in South Florida I have always been fascinated with the weather because it's such a huge part of our lives and whenever Hurricane Season rolled around, I was glued to the television and hanging on the Meteorologist's every word. I will never forget when Hurricane Andrew devastated South Florida on August 24, 1992. I was with my family in Southwest Miami-Dade and remember one voice. Meteorologist Bryan Norcross. He was definitely a role model for me and I think he was an inspiration for us all here in South Florida. When I think of how he helped guide us through that terrifying experience, and I think about all the tropical storms and hurricanes that I've experienced and survived, I feel a huge sense of responsibility to the community now as a Meteorologist in my hometown. And although it may sound cliché, I also consider Oprah Winfrey a role model because she is such a multi-talented, inspiring, positive force in the television industry. Oprah has done it all: actress, producer, news anchor, TV host, philanthropist, and the list goes on. I admire her versatility and her willingness to take risks in order to make her mark and make an impact in others' lives.
Q: If you could do anything else in the world for a living, what would it be?
A:
It would be fun to record an album of jazz standards and Spanish ballads. It would be like a female version of what Michael Bublé is doing right now.
Q: What's the best part about your job?
A:
I was born and raised in Miami, so it so great to work in my hometown and give back to the community that has given so much. I really enjoy helping others and getting involved in the community. One of the best parts about my job is visiting schools and speaking to students about weather and the importance of education, dedication, and determination. I especially love speaking with the younger kids. They just light up the room with their smiles and it brings me so much joy to share my story and motivate them to study, work hard, and follow their dreams. I've had the opportunity to speak at the local schools I attended and graduated from: Village Green Elementary and G. Holmes Braddock Sr. High School.
Q: What's the worst part about your job?
A:
I think the most difficult part of my job is waking up at 3:30 in the morning. Most people find it hard to believe that I have to wake up in the middle of the night and that I have to be at the station by 4 a.m. My secret: Cuban coffee. I have a portable coffeemaker in the back of the weather office and I make Cafesito for the morning team and myself at the station almost every day and that helps us all get up and get going.
Q: What is your biggest professional regret?
A:
I believe everything is as it should be, so I really don't have any regrets because I feel everything has happened and happens for a reason. I try to look at my mistakes and experiences as opportunities to learn and grow.
Q: What's your favorite South Florida charity?
A:
Oh, this is a tough question because there are so many charities that I love and support. But there are a few that I have been a bit more involved with the past few years including CBS4's Neighbors 4 Neighbors programs to help kids and families in need; the Susan G. Komen Foundation to raise awareness and funds for Breast Cancer Research, and other organizations including Dream in Green, Amigos for Kids, Go Red for Women, Best Buddies, and Make-A-Wish, among others. I really want to get involved this year with a charity that helps children through the arts.