South Florida's Best and Brightest
Originally published: Tuesday, February 1, 2011 (12:01:00 a.m. ET)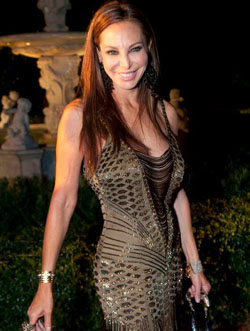 Donald J. Pliner Creative Director Lisa Pliner. (Photo courtesy of Mitchell Zachs, MagicalPhotos.com).
Lisa Pliner
Born in South Florida and raised in Houston, Lisa Pliner was artistically inspired at an early age by her mother, Judith, who worked as a fashion designer. After enrolling at the University of Texas, she transferred to St. Edwards University in Austin, Tex., to study fine arts and theater. It was then off to Paris, where she attended the Parsons School of Design. She subsequently studied landscape arts in Sienna, Italy, before returning stateside to pursue a degree in visual communication and graphic design at the Art Institute of Houston. Miami beckoned and Pliner soon began to sell couture pieces for Neiman Marcus, all the while immersing herself in the history and nuances of each designer. She began working for the legendary Gianni Versace in 1988 before joining the design team of her future husband, Donald J. Pliner. In the fall of 2009, she launched her own collection of footwear (featuring haircalf, lizard, suede, and nappa leather) under the name Lisa F. Pliner.
Q: What advice would you give youngsters who want to embark on a career in your industry?
A:
The fashion industry is an incredibly competitive field. But, stay encouraged. Perseverance, passion and focus can lead you to the top. Networking has got to be the most effective way of getting through the door. Another great way to make it in this field is to intern. You'll be able to learn everything first-hand.
Q: Of what professional accomplishment are you most proud?
A:
I am most proud of my recent launch of the Lisa for Donald J Pliner line. After years of working side-by-side with Donald, I was able to sophisticate my expertise in the fashion realm. My style is unique and fun. My line is inspired by art and by my cultural encounters during my travels. I am very proud of the way Lisa for Donald J Pliner has launched and the way that it has quickly evolved.
Q: What's the most challenging part about your work?
A:
The most challenging part of my job is the long hours away from my family. Both Donald and I are committed to making superior and fashion-forward products -- and that involves a lot of hard work. My priority will always be to be a mother to Starr, so the hours away from home are very difficult.
Q: What did you envision doing for a living when you were growing up?
A:
Growing up, I always wanted to be an artist. My mother was always in the fashion world so I was always around it -- I guess it brushed off on me. Since my adolescent years, I was the black sheep of the family, always trying to discover myself. Every time I found myself doing something fashion-related, I felt comfortable -- I felt me. Marrying a shoe designer made me a true Cinderella. The shoe really did just fit.
Q: In ten years' time, I will be _________________.
A:
I'll still be a mom.
Q: Who are/were your professional role models and why?
A:
My husband, Donald, has been my role model for many years. I really look up to who he is as a professional. He sleeps, breathes and eats his career. That's why he's so good at it. My other role model is my mother. She's just the perfect person in my eyes -- both professionally and personally. Cher is my celebrity role model. She is a superstar who has worked very hard to get where she is.
Q: If you could do anything else in the world for a living, what would it be?
A:
If I weren't a shoe designer, I'd love to own a flower shop on the streets of Paris. The beauty of flowers is just incredible to me.
Q: What's the best part about your job?
A:
The best part of my job is to see my creative thoughts fabricated in front of my very own two eyes. The process of designing the shoes then seeing them on people and seeing the smiles on the women's faces when they wear my shoes is just an amazing feeling!
Q: What's the worst part about your job?
A:
The worst part about my job is when my designs don't come out as I envisioned them to be. This causes problems with factories, buyers, customers and all equate to very long hours of work. That's when all of the problems arrive.
Q: What is your biggest professional regret?
A:
I feel blessed to say that I am at the perfect place on my journey. Until now, I don't have any professional regrets.
Q: What's your favorite South Florida charity?
A:
Donald and I began our own charity in 2007 called Peace for the Children Foundation (PFTC). We were inspired to start PFTC after adopting our daughter, Starr, from Kazakhstan in 2005. During Donald and my many visits to Starr's orphanage, we noticed the children rarely smiled and had no free play time. We then formed the Peace for the Children Foundation, committing the organization to bringing peace to children who need it most.