South Florida's Best and Brightest
Originally published: Tuesday, February 1, 2011 (12:01:00 a.m. ET)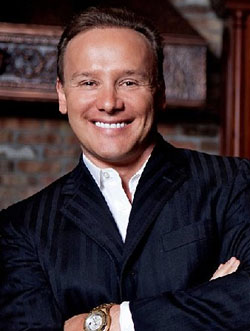 Plastic surgeon Lenny Hochstein. (Photo courtesy of lhochstein.com)
Leonard Hochstein
It would be difficult, if not nearly impossible, to confirm this supposition, but smart money says Lenny Hochstein has worked on more women who've graced the pages of "Playboy" and "Maxim" magazines than any other medical professional on the planet. Born in Moscow and raised in Livingston, N.J., Hochstein graduated from medical school at Louisiana State University as valedictorian in 1990. He went on to train as both an intern and as a resident, serving as surgical chief resident in 1995, at world-famous Parkland Memorial in Dallas (the hospital just four miles from Dealey Plaza at which John Kennedy was pronounced dead). From there, Hochstein completed both hand surgery and plastic surgery fellowships at Jackson Memorial Hospital in Miami. He is a member of the American Board of Medical Specialties, The Miami Society of Plastic Surgeons, the American Society of Plastic and Reconstructive Surgeons, and The Millard Society.
Q: What advice would you give youngsters who want to embark on a career in your industry?
A:
I would encourage them. I believe that, ultimately, if you truly enjoy what you do, it will be a successful career. My profession has given me a tremendous amount of satisfaction. I get to meet many interesting people and help them achieve their aesthetic goals. I cannot begin to describe how rewarding that is.
Q: Of what professional accomplishment are you most proud?
A:
I am most proud of the fact that I have built a succesful practice the old-fashioned way, by word-of-mouth. You will not see me in a radio, TV, or print ad. I have always preferred to do the best job possible and hope that my happy patients tell their friends. I am so grateful for their support.
Q: What's the most challenging part about your work?
A:
The most challenging part of my job is also the one I enjoy the most. It is the determination of the proper operation and technique for each individual. The reality is that no two patients or operations are identical, even on the same individual, there are asymmetries. The tailoring of the technique is crucial in differentiation of a good result versus a great one.
Q: What did you envision doing for a living when you were growing up?
A:
I had wanted to be a physician for as long as I could remember. Medical school changed my views, somewhat. It seemed that medicine was all about prolonging life rather than quality of life. This was not what I had envisioned, and initially I gravitated toward transplant surgery, thinking that this was an opportunity to improve a person's ability to enjoy their life. I soon found out it was simply trading one disease process for another (immunosuppression). This is when I decided that plastic surgery was the field for me. Here I have an opportunity to directly affect someone's quality of life by addressing a physical trait that can enhance confidence and attitude.
Q: In ten years' time, I will be _________________.
A:
I will be in my new office, which is currently under construction, and doing exactly the same thing that I am now. I love my work and want to continue as long as I feel that I can do a great job.
Q: Who are/were your professional role models and why?
A:
The person who taught me plastic surgery was the great Dr. Millard. He showed me how to always be critical of my results and strive to always do better. He also taught me the principles that have guided me in situations where there is no simple answer.
Q: If you could do anything else in the world for a living, what would it be?
A:
I also enjoy construction and interior decorating. I took a very active role in the design of both my home and office building. They are very different in design, and I very much enjoyed the process of everything coming together.
Q: What's the best part about your job?
A:
My patients.
Q: What's the worst part about your job?
A:
Travelling is difficult. I feel I owe it to my patients to be available 24 hours a day and that makes a single vacation annually my only time away.
Q: What is your biggest professional regret?
A:
I often wish surgery could be performed without leaving a scar. I know this is just fantasy but how incredible it could be!
Q: What's your favorite South Florida charity?
A:
My wife and I have two charities for which we raise money. Make-A-Wish and The Humane Society. We want to somehow improve the lives of children who are suffering, and give animals the chance to be adopted by loving families. This year alone we have been able to raise $49,000 for these charities.