Cover Story: 20 Good Questions
ORIGINALLY PUBLISHED: FRIDAY, APRIL 1, 2011 (12:00:00 A.M. ET)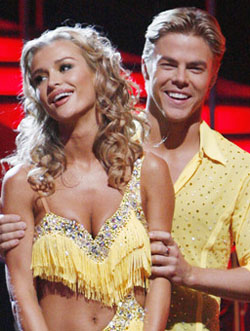 Joanna Krupa shown with her "Dancing With the Stars" television partner, Derek Hough. (Photo courtesy of ABC).
Joanna Krupa
(PAGE ONE)
Her career has been filled with numerous big breaks, but the greatest one of all came when she received an invitation to appear on the hugely popular reality show, "Dancing With the Stars," on ABC in the fall of 2009. Joanna Krupa made the most of that opportunity, enduring nine weeks, alongside her partner, Derek Hough, before the duo was ousted one week before the final round of competition. Be that as it may, Krupa revealed that she was much more than just a pretty face, showing off to the world her lithe, athletic body, as well as a playful and resilient will. Surely, that determination was borne out of a childhood filled with trying moments, as her family emigrated from Warsaw, Poland, to Chicago when she was five. Money was tight, but Krupa never lost sight of her dream to succeed in the entertainment world. To date, she's appeared on more than 100 magazine covers, including "Playboy" and "Glamour." There have also been a handful of TV and big-screen cameos during her newly minted acting career. Krupa spends much of the year on the road, but considers Miami one of her home-bases, as she is engaged to be married to a South Beach nightclub owner. She hinted in our interview about her next big endeavor, but demurred when pressed for details.
Q1: Is securing more TV work your primary objective, more so than modeling jobs, now?
Television is my focus now, and I am awaiting an answer on a dream project that I have been working on for over a year. But until then, I am a guest correspondent for the current season of "Dancing With The Stars," where I'll be interviewing the celebs and their dance partners on the red carpet.
Q2: Your sister, Marta, also models. Do you share a lot with each other in terms of your experiences in the industry?
Whenever I get to work with my sister, it's wonderful, but we don't work together as much as we would like to. So, eventually, our goal is to brand the Krupa sisters and partner up to do many things from television to licensing deals to books, et cetera.
Q3: Is dance something you ever considered pursuing professionally?
I danced ballet until I was 10 years old. I had to give it up because my parents didn't have much money. That's why I had to cut that short. My desire to work in the fashion and show-business industry came about pretty early on in my life, and I am grateful that my mother was so supportive of me following my dreams, which included relocating to Los Angeles.
Q4: How did your relationship with PETA first come about?
The first time I saw a PETA video, there were scenes in it from China where they were skinning animals alive for fur. That made me so depressed and disgusted at human beings that I asked my manager to contact PETA and pitch an anti-fur campaign. PETA opened my eyes to the horrible animal cruelty human beings are capable of. I was shocked. I never knew these things existed before I saw the videos. I was horrified.
Q5: In light of the news a Miami police officer last month received only one year of probation, for starving his canine to death, have you considered lobbying for real punishment for people who abuse animals?
Yes, I have thought about it, because the laws for [abusing] animals are a joke to me. Hurting an animal should carry the same penalties as hurting a human being. A person who can hurt an animal is capable of hurting a human being; there is no difference. To be able to do either one, you have to be a very sick person who deserves to be locked up in jail forever. That police officer should be sitting in jail now, or he should be starved to death. People like that make me sick, and it's so painful to see and know that justice will never be served to monsters like these.
Q6: If you were the judge in Michael Vick's federal dogfighting trial, what sentence would you have ordered?
Oh, God, do I wish I was the judge in that case. Michael Vick would still be in jail and never allowed back in the NFL. When you find pleasure again and again in seeing animals killing each other, that is not "making a mistake," but clearly a display of character. Being in the NFL is not an entitlement, but a privilege, and in my view, he lost that when he chose again and again to be part of an immense act of cruelty. He should be put in a cage and have a bunch of aggressive pitbulls attack him. Give him a taste of his own medicine. He isn't a person, but a monster to be able to be part of such cruelty. If someone hurts a child, they go to jail for a long time; how is this different? An animal can't defend itself, and doesn't have a voice to yell for help. Exactly the same as a young child.
Q7: Critics often say that shows like "Top Model" have a negative impact on young girls because they encourage eating disorders. What's your reaction to that criticism?
I am hosting a Polish version of "Top Model," and when I see a girl who is too skinny, I get upset and tell her she needs to eat. There are many curvy models out there and I would never allow promoting an eating disorder. I was never a high fashion or runway model because I would never starve myself to look anorexic like most of them do. So I make sure to let the girls on the show know that health is a priority because we only have one life and no career is worth risking it.
Q8: Have you and Romain talked about whether you will encourage your future daughters to model?
Honestly, we haven't talked much about kids yet, as I'm not planning on having kids in the near future. But I think we would both agree we would let our kids follow their dreams, and that we would just make sure they are safe and well taken care of.
Q9: You've said attending Barbizon didn't help your career. What are some things young girls who aspire to follow in your footsteps should do?
It did help me become a lady, and it did teach me how to walk in heels. But I don't believe girls need to attend a modeling school and waste their parents' money. The best thing to do is visit local agencies for their open calls. If the agency is interested, they will guide you in the right direction.
Q10: What's the one opportunity you've always had your heart set on that hasn't been offered yet?
I am very close to achieving that opportunity, but cannot talk about it just yet.