South Florida's Best and Brightest
Originally published: Tuesday, February 1, 2011 (12:01:00 a.m. ET)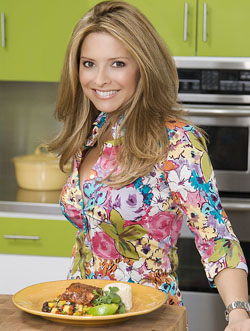 Chef, author, and TV host Ingrid Hoffmann. (Photo courtesy of The Food Network).
Ingrid Hoffmann
Born in Colombia, Ingrid Hoffmann has called Miami home since 1985. Not that she's able to spend much time here. That's the sacrifice that comes with hosting two TV shows, "Simply Delicioso" on the Cooking Channel and "Delicioso," which was recently relaunched as a weekly one-hour lifestyle cooking program on Univision/Telefutura. Additionally, Hoffmann published her first book ("Simply Delicioso: A Collection of Everyday Recipes with a Latin Twist") in 2008. She opened Rocca in 1995, which was the first restaurant in town to feature tabletop cooking on heated lava rocks, and she's appeared on every conceivable talk show, including ones hosted by Oprah Winfrey and Martha Stewart. Hoffmann's line of cookware is available at Target and K-Mart, and on the Home Shopping Network. In the fall of 2009, Hoffman was invited to participate in the Hispanic "Got Milk?" campaign as part of Hispanic Heritage Month. She is a board member of New York City's Food and Education Fund.
Q: What advice would you give youngsters who want to embark on a career in your industry?
A:
First and foremost, this career demands a lot of passion so you can endure hard, long work hours in the heat and be ready to work all holidays! Second, educate yourself; learn about different cultures and their foods; work your way up while working with great chefs; and travel so you can expand your palette and your world. Last, be disciplined, consistent, and diligent, and don't ever give up if this is your real passion. No one said it was easy.
Q: Of what professional accomplishment are you most proud?
A:
My books, my "Simply Delicioso T-fal" cookware line, and my shows. Definitely doing the iconic "Got Milk" ad campaign for both the general and Hispanic markets was a highlight of my career and an "I have arrived!" mark. Also, what I have been able to accomplish for my charities, Amigos for Kids and The NYC Food & Finance High School, whose boards of directors I sit on. As such I've been able to create great awareness for their causes and raise much-needed funds.
Q: What's the most challenging part about your work?
A:
The long work hours and trying to remain creative under the conditions.
Q: What did you envision doing for a living when you were growing up?
A:
Being a pilot or racecar driver or working in architecture and design. I come from a family of aviators and grew up around planes so it always fascinated me. I like adrenaline, adventure, and speed, so car racing would have been fun, too. I am very visual and love art, design and architecture, so those would have given me joy as well. I always approach my recipes and a final meal as a composition of textures, flavor, and colors.
Q: In ten years' time, I will be _________________.
A:
I'll have a global multicultural brand that will allow me to spread my Latin flavors and products all over the world. Hopefully, my Oye Chica Foundation will be up and running which will help women by creating jobs and educational opportunities.
Q: Who are/were your professional role models and why?
A:
Both of my parents because of the passion, focus, discipline, and love they put into their careers. My dad always said to pick work that makes you happy, that way you will never have a job to go to, but a passion that drives you to work.
Q: If you could do anything else in the world for a living, what would it be?
A:
Possibly some of the same things I mentioned in the fourth question!
Q: What's the best part about your job?
A:
The best part about my job is that it's not a job. I'm able to live my hobbies, like eating, cooking, decorating, and feeding people, and call it work. My day is never the same and I am allowed to dream and turn it in to food.
Q: What's the worst part about your job?
A:
Having to wake up at 4:30 in the morning.
Q: What is your biggest professional regret?
A:
I don't live with regrets, even the bad and negative things have been for a reason, and I try to learn lessons and grow from them.
Q: What's your favorite South Florida charity?
A:
Amigos for Kids. I am very proud to be on the board of directors and belong to this top-rated charity that provides great after-school educational programs for free to so many disadvantaged kids and families. I am also proud to support our mission of NO CHILD ABUSE! I have great respect for the founder Jorge Plasencia and director Rosa Maria Plasencia, as well as a board that is so dedicated through its endless amount of time and work.