Cover Story: 20 Good Questions
ORIGINALLY PUBLISHED: SUNDAY, MAY 1, 2011 (12:00:00 A.M. ET)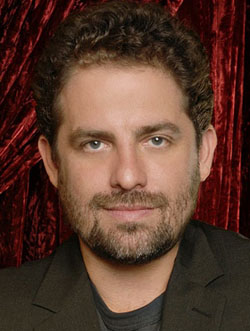 Hollywood producer/director and Miami Beach native Brett Ratner. (Photo courtesy of ABM).
Brett Ratner
(PAGE ONE)
By now, it seems there's little that has transpired in his life yet to be chronicled in one form of media or another. The way he talked himself into film school at NYU at age 16 with grades that could be described as "mediocre" only in the most generous sense of the word; the way he convinced iconic Steven Spielberg to front him five large to complete a student film; the way he has ascended in meteoric fashion into the pantheon of Hollywood's greatest directors. As for his brilliance, consider merely that his movies have generated more than $1.5 billion and there's hardly a single serious thespian in Tineseltown who hasn't overtly pined to work under his guidance. Brett Ratner personifies perseverance more so than any auteur of his generation. His dossier includes the "Rush Hour" trilogy, starring Chris Tucker and Jackie Chan, which has amassed a global gross around $506 million; "Red Dragon," (the thrilling prequel to "The Silence of the Lambs") featuring Edward Norton, Harvey Keitel, Ralph Fiennes, Emily Watson, and Philip Seymour Hoffman; "The Family Man," with Nic Cage and Téa Leoni; and "After the Sunset," headlined by Pierce Brosnan and Selma Hayek. Ratner's training in the arts began at Miami Beach Senior High School under the tutelage of legendary Jay Jensen.
Q1: I've always considered "Red Dragon" to be your signature movie. Why have you expressed so much surprise that you were asked to direct it?
I just didn't understand why I was being offered the movie. Because I'm not typically dark. It's not like I'm Marilyn Manson or that I'm interested in serial killers. But the chairman of Universal Studios was Stacey Snider, and I had done "The Family Man" for her. I think the procedural kind of FBI-hunting-serial-killer stuff is something any director could have done. But it was the humanity in the relationship between the killer [Francis Dolarhyde, portrayed by Ralph Fiennes] and this blind woman [Reba McClane] played by Emily Watson, that was really why she picked me to direct it. Because I was able to bring humanity to an evil guy. Showing people getting killed is not that difficult in a movie. But to show humanity is a harder task. And there was humanity even in the guy, in the Ralph Fiennes character, even in the serial killer, the dragon. So I think it's that simple love story between these two characters that I brought a lot of heart to. "Red Dragon" was an enjoyable movie because it wasn't just about killing and capturing a killer. There was heart and humanity in the story.
Q2: IMDB is notorious for factual errors. Your page indicates you appeared, albeit, uncredited in the 1983 "Scarface" remake. Is that true?
Yeah, that's true. I would skip school every day and go to the set of "Scarface." I actually shared my birthday dinner with Al Pacino at my house last night, which was a childhood dream of mine. I was there on the set as a 13-year-old at the Fontainebleau Hotel. I was omnipresent. So they said, 'Get in there.' So I was an extra in a scene at the pool. That was kind of my claim to fame. I didn't get paid. I was just stalking the set. I wasn't a real extra. They thought I was.
Q3: In one of the first scenes in your very first motion picture, "Money Talks," Chris Tucker pays homage to Tony Montana. How much of an impression did "Scarface" have on you?
The overall gangster culture growing up in Miami had a big effect on me. Seeing the Jewish mafia, the Colombian mafia, the Cuban mafia, all of the mafias coming to Miami, growing up and being exposed to that. I grew up on Miami Beach. I lived on Collins Avenue at the Carriage House on 54th Street. And two doors down was the Imperial House where every day after school I would ride my bike and I would walk down the street with an old man who would walk his dog. We would walk together and everyone at the store would kiss my ass when I was with him. He would take me to this restaurant called the Villa Capri and everybody was always treating me so nice. I didn't realize it until I was in line at the supermarket with my mom and I opened up
Rolling Stone
and I saw his picture on the back. It was Meyer Lansky's obituary. Everybody thought it was weird because he was 80 and I was 12. He was the biggest gangster in the world and he was like my best friend as a kid. I've always been fascinated with gangsters. I happen to be friends with a lot of them in Miami. "Scarface" was a big influence, as well as "The Godfather," and a lot of other great gangster movies.
Q4: How much do you miss Miami Beach?
I miss it. Whenever I have some time off, I come down there. It's my home. I brought my grandparents to come live with me in Los Angeles from Miami, so I brought a little bit of Miami with me. My grandparents live with me here. I love Miami. I love Miami more than any place in the world. There's no better feeling, I always tell people, than when I arrive at Miami International Airport and I drive over the Julia Tuttle Causeway to arrive on Miami Beach. That, for me, is the greatest moment.
Q5: The story of Steven Spielberg sending you money while you were in film school is now legendary. What's the volume of requests that you receive now that you're a big Hollywood guy?
I get a lot of it. Spielberg didn't pull me out of a hat and send me money, though. I look at the work [of those asking for money] and I read what they have to say. It's more than just the money that I can send somebody. If I really believe somebody's talented and I reach out to them, I can do for them what Spielberg did for me, which is give them confidence more than anything. It made me realize, 'Oh, wow, I must be talented.' It's important to give back, whether it's money or a helping hand or support or advice. Having a mentor is a very important thing when you are up-and-coming.
Q6: What's your relationship with Spielberg like nowadays?
We share the same writer. The guy who wrote all of my movies, Jeff Nathanson, he wrote "Catch Me If You Can" and he wrote "The Terminal" and he wrote "Indiana Jones" for Spielberg. I even just did Spielberg's reality television series [on FOX]; he asked me to be the judge for "On the "Lot."
Q7: How did you enjoy the experience of your "Entourage" cameo?
It was great. They asked me to be in the show, if they can they do an episode with me, and I said, 'Yeah, of course.' I suggested we shoot it at my house. We tried to re-create what it's like. It was a little over the top. I usually don't have 30 girls in bikinis by my pool [
laughter
]. There are usually more like 50 [
louder laughter
].
Q8: We see you in the "Entourage" episode taking still photographs of a female model. Is photography something you enjoy?
That's one of my hobbies, photography. When I'm not making a movie, I'm taking stills. I just did a shoot for "Plum Magazine" in Miami. I've also shot for "Haute Living." I normally don't do that, but anything for Miami, I love. And for Aventura. I grew up with Jeff Soffer, who owns the Aventura Mall, as my best friend since I was 12 years old. His family used to own the [Fairmont] Turnberry, so we used to run wild in Aventura. That was our playground. Even though I grew up in Miami Beach, Aventura is where I would do the most damage. Racing golf carts and having BB gun wars on the golf course.
Q9: Who are the filmmakers you admire most?
My big inspirations were Hal Ashby and Roman Polanski. Hal Ashby did some of the greatest movies. Whether it was "Being There," which is my favorite all-time movie, or whether it was "Shampoo" with Warren Beatty, who was also here with me at my dinner last night. For me, it was really the films that inspired me, and they just happened to be directed by Hal who was a great editor and he became a filmmaker. And Roman Polanski has become one of my mentors now. He is a great director. He has made some great, great films. "The Tenant" and "Rosemary's Baby" are just masterpieces.
Q10: Can you tell me a bit about the movie you're currently filming, "Tower Heist?"
It's a heist movie [with Eddie Murphy, Ben Stiller, and Matthew Broderick] that's set in New York, which is the ultimate heist movie setting. It's reminiscent of the great heist movies of the 1970s, including "The Hot Rock" and "The Anderson Tapes." And it's a movie in which New York City will be as much a character in the film as any of the actors.