Cover Story: 20 Good Questions
ORIGINALLY PUBLISHED: TUESDAY, MARCH 1, 2011 (12:00:00 A.M. ET)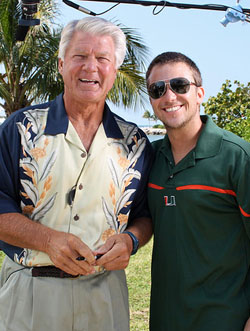 Billy Corben with former UM head football coach Jimmy Johnson on the set of "The U." (Photo courtesy of rakontur).
Billy Corben
(PAGE ONE)
By any account, the events that occurred in the UF Delta Chi frat house in the wee hours of February 27, 1999, were as sordid as they were horrific. A stripper named Lisa Gier King said she'd been raped. Police arrested her, alleging she'd made a false statement. Enter every women's advocacy group, including NOW and the ACLU. The story was filled with too much intrigue for Billy Corben to resist. He bolted Miami and headed to Gainesville to begin the painstaking task of attempting to chronicle exactly what transpired on that fateful winter morning, as well as all of the relevant visceral, emotionally charged, and widespread reactions. Within a year, his documentary, titled, "Raw Deal: A Question of Consent" was a hit at the Sundance Film Festival. So much so that news of its debut landed on the cover of the New York Post and a brilliant career had been launched. In the ensuing decade, all Corben and his partners, Alfred Spellman and Dave Cypkin, have done is create their own production studio, called "rakontur," churning out among others, a pair of wildly popular films, "Cocaine Cowboys" and "The U," both set in Miami. Their next work is "Square Grouper," which will debut at the South by Southwest Film Festival this month, and then "Limelight," set to premiere in April at Tribeca.
Q1: "Raw Deal" premiered at Sundance in Utah. What do you remember most from that experience?
It was freezing, that's what I remember. I'd never seen that much snow before. I landed in Salt Lake City with Alfred and Dave and I said, 'What the hell are we doing here? We left Miami in January to come here?' None of us snow-skied. It turned out to be an outstanding experience. We had a very controversial movie. It was our first dock [documentary]. Dave and I had gone to film school but we'd never even made a student film in the world of non-fiction. This incredible story came to our attention and we pursued it vigorously. It was right at the dawn of the digital revolution in independent filmmaking. DV cameras were not quite ubiquitous, but they were starting to catch on. They were a little bit more affordable, and Alfred said we should try this digital video thing.
Q2: Did you enjoy working in digital for the first time?
It seemed to be best-suited for documentary filmmaking rather than dramatic, scripted story-telling because there's a lack of warmth in video. Even to the untrained eye, it doesn't feel like "Mary Poppins." And the format was better-suited for docks because you don't have to worry about the expense of film and the lighting of film. And not having to stop and re-load. You can keep shooting and shooting and shooting at very little cost. We had never done docks before. That was the time when we started hearing from our friends at the University of Florida about the case of an alleged sexual assault with a stripper at the Delta Chi fraternity house. It was spring of 1999. The videotape of the entire incident, including the alleged assault, had been placed in the public record in Alachua County. We figured this was a hell of a story, so we tried to get in that room, find the four people who were there, get their story, and cut it with this footage. The footage essentially amounted to a homemade porno film. The content was extremely graphic and risqué. As a result, it got a lot of attention at Sundance and it made the front page of the
New York Post.
They had a take on "Sex, Lies and Videotape," which was one of [Steven] Soderbergh's earlier works and one of the first major Sundance films many years earlier. The headline in the
Post
was "Rape, Lies, and Videotape, Sundance Shocker." So that was pretty extraordinary. Then it was a matter of about 60 interviews in five or six days.
Q3: What was it like to interact with so much media?
That's the thing with Sundance, it's this little ski resort in Park City, Utah, in the middle of the mountains. You have this incredible opportunity to launch a movie, a little movie that a bunch of guys made with little money in Miami. All of a sudden, we have this international media platform. It's incredible. What a platform it provides for filmmakers, and to have access to talk to media from all over the world in print and television and radio. And everybody's last question was the same: 'What's next?'
Q4: What did you tell them?
We really didn't know what was next. We had worked so hard for over a year on ["Raw Deal"]. Getting it shot, getting it financed. We'd decided to take a leave from UM, go to Gainesville, raise some money, and make this movie. That was in January of 2000. Exactly 12 months later, we were in Sundance. That's an incredible turnaround, especially for a documentary. So everything was happening very fast. It wasn't until after Sundance when we had a chance to take a breath and take stock. I hadn't even finished editing it yet when we showed it at Sundance. Alfred told me that I had to stop editing so we could premiere it. When I came back, I had more of a chance to take my time. Then we went to London in the summer of 2001 because independent Channel 4 in Great Britain had bought the TV rights, so we went there to work on the edit for television.
Q5: In hindsight, was it always a foregone conclusion that you'd stay in Miami?
Everybody asked whether we were going to go to New York or Los Angeles. It seemed like we had been discovered. I think one of the headlines was "The Belles of the Sundance Ball." Just as obvious as it was to the press that we would go to New York or L.A., the answer was as abundantly clear to us that we would go back home to Miami and try to build our brand, try to build our business based in part on the identity of our community and our city. And it was obvious to us that our brand and our careers would be indelibly tied to where we come from and where we decided to start our business and make our home-base. We knew Florida, and Miami in particular, were untapped in terms of extraordinary characters and stories that deserved a voice and an opportunity to be told the world-over. We're fortunate to have a city where you can take a small slice of life, and it suddenly intrigues people all over the world.
Q6: Why such a long break between 2001 and 2006 when "Cocaine Cowboys" followed "Raw Deal?"
"Raw Deal" was a true Florida crime story, which is definitely our milieu. But we needed something next that was Miami-centric. That was when we decided to do a story we always wanted to do as kids, "Cocaine Cowboys." It was during that time that we founded
rakontur
. Before that, I think it was "Spellman Corben Productions," which sounds like a law firm. We wanted a brand, something memorable, something cool. In and of itself, the name doesn't infer Miami, but it said something about great storytelling which is really what we wanted to do. I also traveled with "Raw Deal" for a year. We did a bunch of things to promote that movie.
Q7: How do you personally contrast the first two "Cocaine Cowboys" productions?
The first one, in terms of scope, is epic. It's more ambitious. There's a micro and a macro to each, and that's something we try to do with as many of our projects as possible. The micro [of the prequel] being the individual first-person stories of all these people who are a part of this history, Jon Roberts, Mickey Munday, Jorge Ayala, the cops, the drug lawyers, and the journalists. The macro is that each of these individuals and their first-person stories are tiles in a greater mosaic, which is the city of Miami and how it kind of rose like a phoenix from the ashes of the cocaine wars and might have actually benefitted from the revenue generated from that deadly period. "Cocaine Cowboys 2" is much more of a simpler story. It's the story of one man and his relationship with Griselda Blanco. "Cocaine Cowboys" would make a great HBO dramatic series whereas "Cocaine Cowboys 2" would make a great feature film. The sequel was a bit of a fan-response film. We had a huge MySpace presence with "Cocaine Cowboys," so much so that ahead of our premiere at the Tribeca Film Festival, Tribeca contacted us to help them launch their MySpace page. I can't remember how many tens of thousands of friends we had. That is, before we abandoned it and moved to Facebook. It was probably over 50,000. It was on the social media sites where we got all these questions about Griselda.
Q8: Was there one specific impetus for "Cocaine Cowboys?"
We didn't want to be just three more independent filmmakers in New York or L.A., peddling our wares. We wanted to say. 'Come down to Miami and see us, this is where work, this is what we do.' The nostalgia cycle was coming around to Miami in the '80s. NBC Universal released the 20th Anniversary Edition of "Scarface," which I think outsold "E.T." and "Jurassic Park" on DVD. It was also releasing the "Miami Vice" seasons on DVD. Michael Mann announced he was finally going to start working on the long-awaited "Miami Vice" feature film adaptation. And the best-selling video game of all-time at that point was
Grand Theft Auto Vice City
, which took place entirely in the world of Miami in the 1980s, all the sights, sounds, fashions, storylines, and archetypes. It was at the moment that we decided that all things Miami are of interest on an international level again, so let's take advantage of that. We're working on our fourth "Cocaine Cowboys" right now. We're working on the HBO dramatic adaptation, we're working on a photo book with MTV Books based on "Cocaine Cowboys," and we're working on a stage play called "Confessions of a Cocaine Cowboy," based on the life of [convicted murderer] Jorge "Rivi" Ayala.
Q9: What were some of the biggest challenges you faced in making "Cocaine Cowboys?"
Getting people to speak on-camera, certainly. Other challenges were shooting in prison, particularly with our elaborate setup. We were very fortunate to get a lot of cooperation from the department of prisons, and from the wardens; you deal with the wardens individually, so that was not as difficult as it could have been. Dealing with a lot of touchy subjects is difficult; you're talking about crimes, people who were killed, lives that were destroyed or lost. A lot of money that went to places it shouldn't have gone to. You start poking around, even 20 or 30 years later, and not everybody is so enthusiastic.
Q10: How much negative feedback did you hear from City of Miami employees after "Cocaine Cowboys?"
We didn't actually hear from a lot of people. I've had arguments with my grandfather about flaws in the fundamental premise of the movie, i.e., that drug money helped to support the foundation of the city and build the skyline. He argues with me that it was inevitable, that it would have occurred anyway, regardless of the drug money. He's just a naysayer. He was a real estate developer in Miami Beach in the 1950s. We never really heard from the politicos or the 'Chamber of Commerce' types. We certainly heard through the grapevine that there were people who weren't happy. I think [the movie] only promoted the dangerous, cool, sexy reputation of the city that everyone all over the world already was well-aware of. I think "Cocaine Cowboys" was probably really good for tourism.