South Florida's Best and Brightest
Originally published: Wednesday, June 1, 2011 (12:01:02 a.m. ET)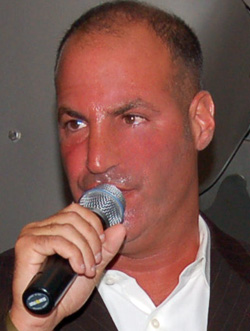 WQAM sports talk midday host Sid Rosenberg. (Photo courtesy of Katie Winter/ABM).
Sid Rosenberg
His rise to national stardom was nothing short of meteoric, as Don Imus hired him on a full-time basis to be equal part sports reporter and on-air foil at WFAN in New York within a few short years of his radio debut. It was at CBS SportsLine just up the highway in Fort Lauderdale where he began his broadcasting career in 1996. From there, it was on to the Big Apple where he made audiences howl out loud at the hilarity that ensued when he teamed with Imus, Bernard McGuirk, and Charles McCord, among others. A well-publicized mass firing of the Imus crew after some ill-conceived remarks about the Rutgers University women's basketball team blasted the Imus In The Morning primary cast members into new careers, and Rosenberg found himself back in South Florida. He currently hosts the highly coveted 3 p.m. until 7 p.m. drive-time spot weekdays at all-sports WQAM, where he chats up guests from the worlds of media, sports, politics, and pop culture.
Q: What advice would you give youngsters who want to embark on a career in your industry?
A:
The first thing is to be themselves. There are a lot of guys out there who try to be the next Jim Rome, the next Dan Patrick, the next Sid Rosenberg, the next Chris "Mad Dog" Russo. Be yourself. Don't get caught up in the traditional ways of doing things. Have a bunch of different interests. Try to be as knowledgeable about as many different things as possible so you're never pigeon-holed where people say, 'Oh, he's that basketball guy' or 'He's that football guy.' Be yourself and try to be somewhat knowledgeable about a wide-range of topics so you never run out of things to say. And so that you're considered among your peers and the media to be a relatively bright guy.
Q: Of what professional accomplishment are you most proud?
A:
Obviously, getting back into the business after I left New York in 2005. The overwhelming majority of people thought that I was done, that my career was over. To get back in the business in 2006 certainly was a great step. Working at QAM has been huge for me, and I'm talking intrinsically, not necessarily financially. After getting fired from WFAN in 2005, the fact that I've re-established the relationship with WFAN, and am doing between 20 and 30 shows there every year, to me is the most impressive achievement. It was one thing that I got back in the business in a different state in 2006, and got to a great station in 2008. But to be back at FAN, is a pretty big accomplishment. I think people forget that aside from being the sports guy for Imus, I hosted the midday show with Jody McDonald and Joe Benigno for five years. And I maintain that relationship. Last year, I hosted three weeks when Benigno went on vacation. I'm slated to do at least three weeks this summer.
Q: What's the most challenging part about your work?
A:
The fan base. There are still lots of people who view me as the out-of-towner, the New Yorker. I've spent my whole life here and I never knew about the geographic bias. I kinda grew up in Hallandale. I just thought it was a bunch of old New Yorkers. I never realized until I got into the business down here a few years ago the geographic bias. The amount of people who say, 'Oh you're from New York, you're no good. Oh, you're a Jets fan, you're a Mets fan.' That's the most challenging part about my job. That where I'm from, who I root for, what my accent is, doesn't matter. If I continue to provoke, to inform, to entertain, and to put on the best show in this market, which I think I do and I don't think it's even close any more, that should be all that matters. I think I've convinced a lot of people, but there are still naysayers. That's my biggest challenge, to convince some of these people that listening to a New York guy is not that bad.
Q: What did you envision doing for a living when you were growing up?
A:
I was going to be a doctor. I was a little Jewish kid growing up in Brooklyn, so that was it. When I started my college career -- and I call it a career because it spanned four schools in seven years until I finally graduated from Baruch College in New York City in 1991 -- I was pre-med right here at the University of Miami. That didn't work out, obviously. I was the only son. My parents have three daughters. I was the prince and was supposed to be the nice Jewish doctor. It started out that way in college but didn't last.
Q: In ten years' time, I will be _________________.
A:
I'd like to be on the tip of the radio listeners' tongue. I'm not sure if it will be in strictly sports talk. If you listen to my show, you know that my show delves into serious topics outside of sports like news and politics. I'm still a rabid sports fan and love talking sports every day, but as my career moves on, and as I age and mature, I realize that arguing about quarterback statistics and home runs is a little banal, a little trite, and I don't mind mixing it up with some of the more important stuff.
Q: Who are/were your professional role models and why?
A:
I always considered Howard Stern to be the greatest of all time. I love Howard and have listened to him for years. As far as hands-on guys, nobody had a bigger influence on me than Don Imus. I worked with him day-in and day-out for six years. Our relationship is going on 10 years now. I have only done a couple of things for Stern. I was on his program three times as a guest and I did host "Wack Pack Bowling" on Howard TV with all of his maniacs, which was fun. But certainly because of the hands-on influence, it has to be Imus. After them, it was Mike [Francesa] and Chris "Mad Dog" Russo, who always were and always will be the industry standard.
Q: If you could do anything else in the world for a living, what would it be?
A:
I'd like to be the guy who owns the restaurant, the really nice restaurant, who walks around with a suit and tie. The guy who eats and drinks on the house and walks around, schmoozing with everybody. I don't care if it's a steakhouse or a really nice Italian restaurant. But it's gotta be a fancy place with an affluent clientele. The place does very, very well, and I'd get to walk around and shake hands and kiss babies.
Q: What's the best part about your job?
A:
I know it sounds crazy, and at times I can't believe it myself, but there are people who can't wait for 3 o'clock every day. No matter what I'm talking about. Whether it's the Heat, the Marlins, the Panthers, the Mets, the Yankees, Barack Obama, "Dancing With The Stars," or "The Jersey Shore," they can't wait to tune in and hear what I have to say. That is far and away the most rewarding part of my job.
Q: What's the worst part about your job?
A:
The naysayers and the detractors don't really bother me as much as they think. I remember Stern saying way back when that whether they hate you or whether they love you, all that matters is that they listen. So I get a kick out of the guys who Tweet me or call the station to say how much they hate me, and they can repeat verbatim everything I said the day before. I don't really think there is a worst part of my job. There is very little about those four hours that I don't enjoy. If I had to pick something, I'd say that if there's a big story, like these NBA playoffs, which have been going on for the last two months, I'm talking about the same thing every day, over and over, and it does become tedious and redundant. And that has nothing to do with WQAM or Miami. That's the nature of the business. When there's something successful, you have to talk about it
ad naseum
.
Q: What's the one most important thing that experience has taught you?
A:
I'm one of those guys who is described as having no filter. What I think is what I say. And that's evidenced by the fact that I've been fired and suspended more than any other radio host in the country. I would say that even though I still say some shocking and crazy stuff, I know what to and what not to say. And I can honestly say that five or six years ago, when I was working for Imus, that was not the case. Back then, even if I knew not to say something, I did it anyway in a feeble attempt to get a laugh or to be sure that the
New York Post
or the
New York Times
was writing about me. I was willing to take that chance. But at this stage of the game, with two kids and the economy the way it is, you have to thank God you have a job. I learned my lessons in terms of knowing how to walk to the edge without jumping over the line.
Q: What's the best career advice anyone has imparted on you?
A:
I wasn't sure for the longest time what I was going to do for a living. I worked for my dad for a couple of years. He was a chemical engineer. I had some odd jobs here and there. Then I started to work in radio and I liked it. And someone said to me that you can't wake up in the morning and be miserable. Tons of guys make a decent living but they are sick to their stomachs when that alarm clock goes off. That's not the case with me. If it means taking less money or if it means less glamour, you have to do something that you feel good about. If you can get up in the morning and do something you enjoy and at the same time, pay your bills, then you're one step ahead of the game.
Q: What one thing would you do different/better if you could start it all over again?
A:
There's no doubt I wouldn't have gone to Atlantic City in 2005. There were some things I said on the
Imus
show that I would take back, too. But going to Atlantic City is the biggest thing. I was only a couple of months sober, so knowing what the place provides, I never should have gone. Of course, that was the fateful weekend when I never got back for the New York Giants pregame show. Inevitably, I was fired that Monday and was out of the business until I was hired down here in 2006. In fact, my wife and my boss at WFAN, were both very skeptical about me going; they said I shouldn't go. I thought I would be okay. A lot of people were right. I was wrong. By far.
Q: What's your favorite South Florida charity?
A:
Well, I have my charity, Sid for SIDS, which is my battle against Sudden Infant Death Syndrome. I can't think of anything worse than putting a healthy and happy baby to sleep one night in his crib and to have him gone the next morning with no explanation. So I got involved with the CJ Foundation for SIDS with Joel Hollander, who was the president at CBS for a long time. He was Don Imus's boss and Howard Stern's boss. He lost a child to SIDS way back when and he started the CJ Foundation for SIDS at the Hackensack Medical Center in New Jersey. They raise millions of dollars every year. So I started Sid for SIDS. That's my charity. Down here, I've gotten involved in everything from helping the family of [cancer victim] Jim Mandich, the Make-A-Wish Foundation, Jason Taylor's foundation, and O.J. McDuffie has a tremendous charity, the Catch 81 Foundation to help inner-city kids and Cystic Fibrosis. There are so many that come to mind.