Cover Story: 20 Good Questions
ORIGINALLY PUBLISHED: TUESDAY, FEBRUARY 1, 2011 (12:00:00 A.M. ET)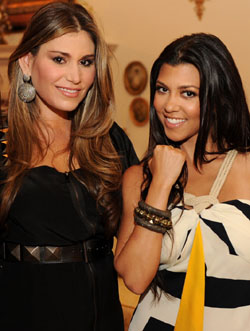 Loren Ridinger and Kourtney Kardashian, an unpaid endorser of Ridinger's jewelry. (Photo courtesy of MyFashionCents).
Loren Ridinger
(CONTINUED)
The spoils of her hard work abound throughout Miami Beach. From the massive, gated North Bay Road compound (it does span three lots) she occupies with her husband, JR, who founded Market America almost two decades ago, and their daughter, Amber; to the two megayachts, Utopia II, a 118-foot craft, and an even larger vessel, the 157-foot Utopia III; and on through the chauffeured black Rolls-Royce sedan replete with the personalized "MA" license plate. Quite a contrast to the early 1990s when Loren Ridinger first set out in business. MA now has a presence in seven countries and continues to grow at a heart-stopping pace. To date, the company, which specializes in one-to-one marketing, has sold to more than 6 million buyers. It has amassed more than 180,000 worldwide customer managers and can claim nearly $3.5 billion in sales. That has resulted in commissions paid to the public that top out at better than $2 billion. Ridinger, who also oversees a publication of her very own, called "Motives," as well as an annual fundraiser called "Rally For Kids With Cancer," paused on the eve of the company's sold-out 2011 World Conference at the AmericanAirlines Arena in downtown Miami to speak at length with Aventura Business Monthly for its inaugural cover story.
Q11: When did you begin opening offices abroad and what lies ahead in terms of international expansion?
A:
Our international expansion began about seven years ago when we opened space in Australia. That was our first effort to growing outside of North America. The acquisition of Shop.com will enable us to enter the European market much faster than we originally anticipated. We have our eyes set on South America and the Pacific Rim. We're currently in the United States, Canada, Australia, Taiwan, Hong Kong, the Philippines, and Australia.
Q12: Social Media clearly is an important part of the marketing of MA. Did you warm up to the idea of Facebook and Twitter from the beginning?
A:
I am a social media addict. There's nothing that I promote more to any entrepreneur than the use of social media to grow their business, connect with customers, and create brand awareness. I think social media should be an essential part of any marketing strategy, and if you're not on it, you're not ahead of the curve. As we evolve, so do our marketing and branding tactics, and social media, for me, is probably most important. I am most active on Twitter and Facebook, but I do use other social networking platforms. Because I have so many brands, and more than five different accounts, I have a social media manager who helps me keep up with all of my fans and customers. Currently, I have more than 80,000 followers on Twitter, 10 facebook fan pages, and four Facebook fan pages for my brands. (You can follow me on Twitter @lorenridinger and Facebook.com/lorenridinger).
Q13: What are the biggest factors in MA's ability to continue pulling market share away from companies like Amazon and the home shopping channels?
A:
We are not really after market share. Our objective is to build lifetime value with each customer. That comes down to the user-experience, the functionality of our web portal, products and services made to the web portal, the "Paid to Shop" program, and our people power. Our ability to have a personal connection to (and a relationship with) each of our preferred customers is the catalyst. As we expand, so will our customer-base by our ability to emphasize the importance of Market America's social shopping model. Our objective is not to get more customers, but to develop a shopping experience and provide our customers with more things and better service.
14. What initially brought you to Miami Beach from North Carolina?
A:
We came to Miami Beach about 15 years ago for a getaway weekend, and JR and I fell in love with the energy of the city, so we decided to get a place here. We visit our headquarters monthly, but we connect with our employees through video conferencing, our internal network, and conference calls.
Q15: I cannot remember you missing any charity event. But I know "Rally For Kids With Cancer" is one organization with which you are especially active and dedicated. Can you talk about your involvement as co-chair?
A:
It's something that is very dear to my heart. I think "Rally For Kids" is different from a charity standpoint because it's fun, interactive, and a wonderful way of raising money for kids with cancer. My good friend, Eva Longoria, is the chairperson and nothing makes me happier than helping others with the people I love. One of the best things about "Rally For Kids" is that it provides children with the resources and medical treatment they need in order to get better. It's a charity that is very interactive; you can see and talk to the kids who you are helping and who are part of the rally. JR immensely enjoys the interaction with the kids.
Q16: The American Heart Association bestowed upon you its 2010 Big Heart Humanitarian Award. When and how did you first begin to work with the AHA?
A:
I began working with the organization about two years ago after I learned heart disease is the Number One killer for women. My mother passed away from a heart attack when I was 22 years old, so being part of the organization is something I felt the need for. I think all women need to be aware of the symptoms of heart disease and create awareness among each other. Losing my mother was one of the hardest moments in my life, so I'm trying to ensure awareness is constantly being spread.
Q17: On the subject of charity, is there a void for one in South Florida that you would ever champion?
A:
I think there already is every type of charity in South Florida. The problem is that the charities become more about the who's who instead of about those who we are trying to help. To me, it's most important that we focus on the people we are helping instead of trying to land on the cover of the People Section in the "Miami Herald." Although press and brand-awareness are important for whatever the organization is, what's most important is recognizing those who are making a difference and interacting with those we are helping.
Q18: What's the most salient piece of advice you impart on young entrepreneurs these days?
A:
Never give up; you are as big as your dream. There are many people with dreams and aspirations, but some are too lazy to even show up. My husband and I came from nothing. We had no savings, but we definitely had passion. We knew we would have to struggle in order to succeed, but we were willing to do whatever it took to make it happen. Sometimes, those who are so close to accomplishing their goals give up too easily. Don't give up. Believe in yourself and in everything you do.
Q19: A lot of family members find it difficult, if not impossible, to work side-by-side. What have you learned are the most important factors in the success of those dynamics?
A:
To respect each other and know we are all fighting for the same goals. My family is filled with hardworking entrepreneurs and they are passionate about what we do. We know each other's strengths and weaknesses, and we make sure we play off the positive. We support each other, even if we agree to disagree. I love that I have the opportunity to work with all of them.
Q20: It's often said that you come from a family of entrepreneurs. What have you learned from them?
A:
Everyone in my family has an entrepreneurial spirit, but we didn't have any experience. We were too young. My brother, Marc, was only 18 [when MA started]. I was 19. My sister, Brandi, was 23, and my younger brother, Steve, was only 12. Our mother passed away when we were young, so we were all hungry and passionate. JR gave us the vehicle to succeed with his amazing vision for what we are today, Market America. Today we are all successful with an amazing lifestyle and we have whatever we want. But we worked hard for a Psychic income of helping other achieve their dreams. After all, people helping people is what Market America is all about.