Cover Story: 20 Good Questions
ORIGINALLY PUBLISHED: FRIDAY, APRIL 1, 2011 (12:00:00 A.M. ET)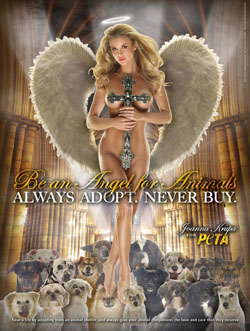 Joanna Krupa shown in the national PETA campaign ad that drew the ire of religious groups. (Photo courtesy of PETA).
Joanna Krupa
(CONTINUED)
Her career has been filled with numerous big breaks, but the greatest one of all came when she received an invitation to appear on the hugely popular reality show, "Dancing With the Stars," on ABC in the fall of 2009. Joanna Krupa made the most of that opportunity, enduring nine weeks, alongside her partner, Derek Hough, before the duo was ousted one week before the final round of competition. Be that as it may, Krupa revealed that she was much more than just a pretty face, showing off to the world her lithe, athletic body, as well as a playful and resilient will. Surely, that determination was borne out of a childhood filled with trying moments, as her family emigrated from Warsaw, Poland, to Chicago when she was five. Money was tight, but Krupa never lost sight of her dream to succeed in the entertainment world. To date, she's appeared on more than 100 magazine covers, including "Playboy" and "Glamour." There have also been a handful of TV and big-screen cameos during her newly minted acting career. Krupa spends much of the year on the road, but considers Miami one of her home-bases, as she is engaged to be married to a South Beach nightclub owner. She hinted in our interview about her next big endeavor, but demurred when pressed for details.
Q11: Seems you're defending nudity quite a bit lately. Why do you think so many people find posing for "Playboy" to be objectionable?
In a time in which we practically have a nude scene in every other movie, most people obviously do not find nudity objectionable. The greatest painters painted naked women, the greatest photographers have photographed nudity, and the greatest directors show nudity today, and even full-blown sex scenes. It is never artistically required to show a full-blown sex scene or nudity in a movie, because that would mean all films from the 1940s and 1950s were less artistic, which is obviously not the case. Nudity is a natural commercial element and has always been part of human history. Those who are categorically against it surely represent a minority, but my motto is, "To each his own."
Q12: Is it more often the case that you fall in love with the final product from a shoot or that you're unhappy?
I am very critical of my work, so I always find something I dislike about a shoot. But I will admit that with [my "Playboy" photographer] Rankin, I loved every photo and that I had no objections.
Q13: What was the transition like for you and your parents going from Poland to Chicago?
My mom and I moved to Chicago when I was five years old. My mom wanted to be closer to her mother and sister, and she also wanted to strive for a better future in the United States. My dad came two years later, but in the meantime, my mom worked in a factory seven days a week, 12-hour shifts. Then later, my dad came and slowly found a job in his profession as an engineer.
Q14: I've heard you say that meeting the right manager was the key to your success. What were some of the most important strategic decisions the two of you made early in your career?
Having a team that believes in you is Number One. It was hard for me to break into the modeling industry because I wasn't tall enough or skinny enough. My manager saw me in a photographer's portfolio and saw something in me. She asked the photographer to introduce us, and we started to build my career. We did our own thing and started with magazine covers worldwide to build my name, and when magazines started noticing me and naming me the "Sexiest Woman in the World," others followed. It's very important to have someone who works hard for you, but you also have to be willing to work hard because no matter how hard someone fights for you and gives you the opportunity for a job, if you don't nail it, then all of their hard work goes to waste.
Q15: Everyone has regrets. Can you share some you've made so that others can learn from them?
Of course I have regrets. But I'd rather not specify what they are and look back at them. This year, I am definitely making a lot of changes, professionally.
Q16: What was the absolute best moment of your professional life?
When I got a call to be on "Dancing With The Stars." I wanted to be on the show for a while and when I finally got the opportunity, it was an amazing feeling of accomplishment.
Q17: How do you handle the downside of celebrity, like the loss of some privacy?
There are definitely ups and downs of being a celebrity. But no one's life is perfect. I chose this business because I love what I do and I accept what comes with it, the good and the bad.
Q18: Do you find yourself accepting or declining most modeling offers these days?
If an offer is good, of course I will still accept it, but my focus now is more on television.
Q19: What's the one absolute zaniest offer that was ever presented to you for a job?
It's something I am working on presently, but can't yet talk about. It's definitely something that is the biggest accomplishment in my career and can't wait to share with everyone.
Q20: Does being in Miami so much create many new professional opportunities for you?
I spend part of my time in Miami, mostly to be with my fiancé and to relax. For work, I'm mostly on airplanes. Miami is a very specific model market that is especially strong in the swimwear section. But one of the most memorable moments of my career, so far, was the first cover for "Ocean Drive" magazine. Only the top celebrities and models are gracing their cover, so naturally, it was a huge compliment and accomplishment to shoot the cover twice. Because my focus is more on the product endorsement side of the business, and also on hosting and even acting, Los Angeles will stay my main base.