Cover Story: 20 Good Questions
ORIGINALLY PUBLISHED: TUESDAY, MARCH 1, 2011 (12:00:00 A.M. ET)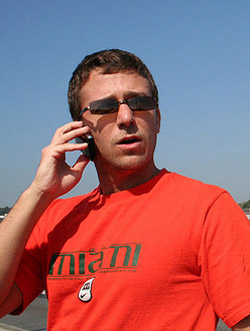 Billy Corben, who followed his provocative smash-hit "Raw Deal" with "Cocaine Cowboys." (Photo courtesy of rakontur).
Billy Corben
(CONTINUED)
By any account, the events that occurred in the UF Delta Chi frat house in the wee hours of February 27, 1999, were as sordid as they were horrific. A stripper named Lisa Gier King said she'd been raped. Police arrested her, alleging she'd made a false statement. Enter every women's advocacy group, including NOW and the ACLU. The story was filled with too much intrigue for Billy Corben to resist. He bolted Miami and headed to Gainesville to begin the painstaking task of attempting to chronicle exactly what transpired on that fateful winter morning, as well as all of the relevant visceral, emotionally charged, and widespread reactions. Within a year, his documentary, titled, "Raw Deal: A Question of Consent" was a hit at the Sundance Film Festival. So much so that news of its debut landed on the cover of the New York Post and a brilliant career had been launched. In the ensuing decade, all Corben and his partners, Alfred Spellman and Dave Cypkin, have done is create their own production studio, called "rakontur," churning out among others, a pair of wildly popular films, "Cocaine Cowboys" and "The U," both set in Miami. Their next work is "Square Grouper," which will debut at the South by Southwest Film Festival this month, and then "Limelight," set to premiere in April at Tribeca.
Q11: What are your impressions of the UM guys who rejoiced so boorishly on the field back in '80s?
I don't think they had anything to regret. I think a few of them would apologize for a few things they did or said. These were 18-, 19-, and 20-year-olds. And they were put under a microscope by virtue of the fact they play football. I don't know how many of us could withstand the scrutiny of a major media town like Miami when we were in college. They had their own personalities, not like the team Randy Shannon tried to create and nearly destroyed. It was a different time back then. I think what they really relished more than anything was their uniqueness, their individualism. Their dynamic personalities helped to change the game of college football and very possibly the face of all amateur sports. They created a culture. I often wonder if you'd have a Dennis Rodman without the Miami Hurricanes.
Q12: The existence of Dennis Rodman is not really a good thing, either for sports or for children, is it?
Absolutely. It's certainly a good thing for sports. Whether or not it's a good thing for children is a different story. It's great for sports. The University of Miami Hurricanes were great for sports. Personalities are what drive our attention and our imaginations, and that's what they brought to the game. It was better at UM when they were also winning. In lieu of that, I'll take personalities.
Q13: What about folks like Donna Shalala. Did she react to you directly after "The U?"
I never heard from her. The media has heard from her minions. I was on her radar from the beginning. She did her best and succeeded in not getting her hands dirty. But they certainly are [dirty].
Q14: Did I read accurately that you had a public spat with Warren Sapp?
I don't know anyone who hasn't had a public or private spat with Warren. For me, it was like a rite of passage. It was like my UM bar-mitzvah.
Q15: Who did you ask to interview for "The U" who turned you down?
Vinny Testaverde. Randy Shannon. Any of the folks at the University. I'm surprised when people say "yes" as opposed to saying "no." I don't know that all publicity is good publicity, but I don't think that anybody who participated in the piece was sorry they did. I think we're seeing a lot of sour grapes right now. I think that's what's happening with Warren. Maybe there's a tinge of regret he said "no" to begin with. All these other guys got this wonderful platform, and they're getting recognized for having been part of the movie, which they deserve. And the guys who didn't participate are being asked why they weren't in the movie. I think that's what riled up Warren, so he projected his ire on me.
Q16: By the way, how do a couple of kids with virtually no money and no experience get a film into Sundance?
We submitted the movie on the advice of our producer's reps. We asked if we had a shot and they said 'absolutely' and we got in. It's an extremely mysterious process to me. I don't have any insight, even having been through it. It's incredible, the number of submissions they get every year. You wonder who are the poor souls who have to watch all of these movies, the vast majority you assume are not very good. Because how could there be thousands of great movies every year? There are thousands they have to wade through, short films and feature films and documentaries and foreign films. It seems an extraordinary undertaking. I honestly don't know how they do it.
Q17: Is it safe to say you're harboring a lot of ill-will toward UM?
I don't think the quality of the education is anywhere close to what it is now. I had issues with the value of it, compared to the cost. On "The U," we not only didn't get any cooperation, there were lies in the media, [UM administrators] were going on the record and lying. There were bold-face lies. I don't mind them saying 'No, we won't participate,' but there was no reason to be obstructionists about it. People had told other subjects not to participate, people who weren't of the employ of the university. Every time I pay my student loan, I'm reminded that this is a university that has no problem calling me twice a month asking for money or for help, and I asked them for one thing that wouldn't cost them anything, and arguably turned out to be an incredible opportunity for publicity, two hours of prime time on ESPN, and we got treated so poorly that it was difficult not be down on the University. At this moment in time, I feel like it's water under the bridge.
Q18: I can sense you're thrilled at the recent head coaching change. Is that a fair assessment?
Al Golden doesn't have to win a game, I hope he wins a lot of games, but he doesn't have to win a game, and he already is doing a superb job at managing this brand. Randy never let his players talk to the media. When he got fired, the media went out to talk to the players and my first thought was, 'Where the hell have these guys been?' They were extraordinary. These guys should always have been spokesmen for the team. They have great attitudes and they were expressing themselves incredibly, especially under really horrible circumstances, as their head coach had been fired. Meanwhile, we have the head coach, Randy Shannon, on the radio every week sounding like a buffoon.
Q19: Did you and Randy ever have a confrontation while he was at UM?
Randy didn't want to talk to me. He didn't want to talk to Joe Rose on 560 [WQAM] every week. He had to because they told him, 'These guys pay us a lot of money to carry these games.' That was the only media that Randy ever did, that which he was contractually obligated to do. He was never going to talk to me, on-camera. I think it's a whole new world over there now. I think the new coach is an acknowledgement that the football program had been mismanaged. Not just on the field, but off it, from a PR and marketing perspective. This new coach has a completely different playbook with respect to PR and marketing, and truth be told, I've been talking for two years about how this is the greatest brand in college football, win or lose. The people who were working there last year could run the iPod into the ground. It looks like it's changed 180 degrees.
Q20: It's been that obvious already?
You get the feeling [Golden] wants to tell you his plan, what's going to change and what's going to be good about the team. They say all politics is local, well, all sports is local, too. Especially at a school that only has 8,000 to 10,000 students, and doesn't have an on-campus stadium. You need the support of the community, you need the support of the local media, you need the support of your alumni. The guy goes on the radio and gets people excited about the product, about the experience of coming to games. That hasn't happened since Jimmy Johnson. We've had other great teams, just look at 2001 and 2002. But from the prospect of a coach having his act together on the field and having that right element of P.T. Barnum in him. Howard Schnellenberger really understood that you're an ambassador for the university and the community. That what you have to do is get asses in the seats, and I think this guy is doing that beautifully. I think you are going to see a lot of people very enthusiastic to pay the inflated prices and donations that the university is going to ask for next season as a result of this hire. Which means they've done a great job. What they had been doing was a disservice to these young men.